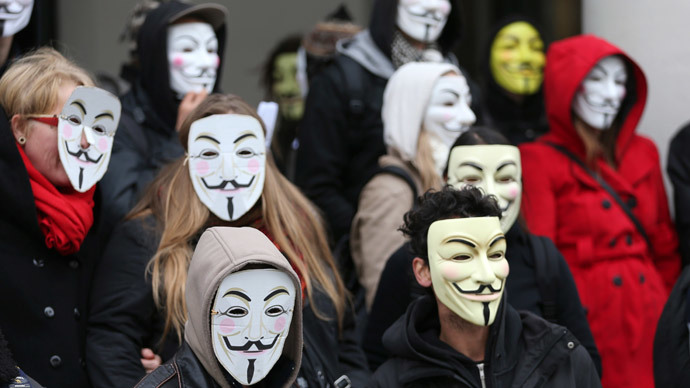 The Million Mask March is sweeping the globe across Wednesday as demonstrators protest against austerity, mass surveillance and oppression. Participants will obscure their faces to protect their identity.
Wednesday, November 5
19:24 GMT:
Clashes have broken out in London, with some demonstrators picking up the metal barriers to use as a weapon against the police, and police meeting the attempts with baton attacks. One or two traffic cones have been hurled into the crowds of law enforcement officials.
19:09 GMT:
Things have become more heated between protesters and police; the sound of breaking glass is audible and a couple of police officers have resorted to picking up the metal barriers separating them from the crowds to use as protection.
"Would you like to live in a military state?" one protester demands to know.
19:02 GMT:
Some angry altercations with police have taken place. However, there have been no direct violent conflicts between police and protesters, despite one policeman claiming that several protesters wanted to attack him. TV personality Russell Brand turned up to insist the protest remained peaceful.
18:53 GMT:
London protesters have moved to Parliament Square, shouting: "Whose streets? Our streets!" and calling for revolution.
18:50 GMT:
Protesters at Trafalgar Square in London set off fires.
18:36 GMT:
18:18 GMT:
Rome has joined the Million Mask March
18:12 GMT:
Hundreds of masked people are marching in Quezon City, the Philippines as Million Mask March supporters are moving toward the country's National Assembly, the Batasang Pambansa.
18:04 GMT:
A message has been relayed from police to the protesters, requesting that fireworks aren't set off in the midst of the rally. However, some people have still sporadically been launching them into the sky. People can also be heard shouting "free Palestine!"
17:53 GMT:
Other areas which have seen high turnout today have been Gothenburg and Central Hong Kong.