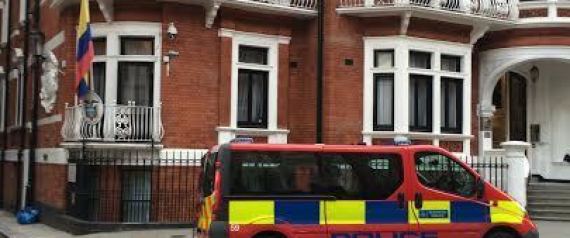 A police officer stands just inside the lobby of 3 Hans Crescent, a nondescript apartment building just around the corner from Harrods of London and a few blocks south of Hyde Park. He's watching the door to apartment 3b, a mini-flat that has for two years been the home of WikiLeaks' Julian Assange.
On the building's stoop stands another cop. Near him is parked a festive, multicolored paddy wagon. Several other officers loiter nearby, all of them charged with making sure Assange doesn't step outside the apartment, the home of the Ecuadorian Embassy, where he has asylum.
One officer tells The Huffington Post that if Assange does step out, he and his colleagues have been instructed to pick him up and taxi him to the nearest police station. The officer notes dryly that his past assignments — guarding visiting royalty and American presidents as far back as Jimmy Carter — have been significantly more glamorous. "I've guarded kings and queens and presidents," he says. "Julian Assange?"
Inside, the officers' unwanted charge is wary of his embassy lookouts. He moves quickly to stop a visitor from opening the flat's front door, warning that he'd be visible to the lobby's watchman. For our interview, he asks for the chair farthest from the door that offers him his daily protection.