When it comes to the Islamic State, the extremist group that has seized large swaths of Iraq and Syria using horrifying tactics, there is no shortage of speculation about its history and ambitions. But not all the claims about the organization now targeted by the U.S. hold up. Here's a look at some of the biggest and most troubling misunderstandings about the Islamic State.
MYTH 1: ISIS = Al-QAEDA
ISIS is not al-Qaeda. In fact, the groups are on less-than-friendly terms. Here's the backstory:
ISIS' roots lie in a Sunni Islamist militant group founded by Abu Musab al-Zarqawi, who pledged allegiance to Osama bin Laden in 2005 and named his group al-Qaeda in Iraq. Their relationship was sometimes tense, and the groups developed different tactics, goals and styles of leadership.
After al-Zarqawi was killed in a U.S. strike in 2006, the group took the new name the Islamic State in Iraq. The group's current leader, Abu Bakr al-Baghdadi, decided toexpand into Syria after the country's civil war broke out in 2011. In April 2013, al-Baghdadi proclaimed his group's merger with al-Qaeda's branch in Syria, the Nusra Front, calling the new venture the Islamic State in Iraq and Syria, or ISIS. But the al-Qaeda group denied the alliance, and when al-Baghdadi refused orders to focus on Iraq, al-Qaeda's top leadership cut ties with ISIS. Since then, the two can be thought of as competitors.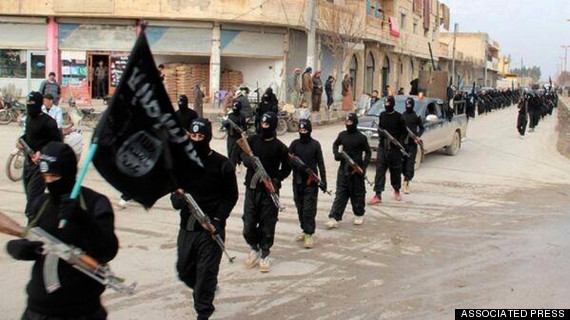 Undated file image posted on a militant website shows ISIS fighters marching in Raqqa, Syria. (AP Photo/Militant Website)